John Hart – Executive Host
Over the past 16 years at Clearwater Casino Resort, I have enjoyed meeting new and interesting people, developing wonderful new relationships with our guests and providing the highest level of service to our guests.
Outside of work I enjoy spending time with my family, playing golf, various types of gaming and enjoying new places and experiences through travel.
James Villareal – Executive Host
JamesVillareal@clearwatercasino.com


I have the opportunity to meet a new person every day and to create relationships with our players. I enjoy playing a pivotal role in representing our Casino and utilizing over 14 years of my customer service background to provide my players with a better gaming experience.
Besides spending time with my family and friends, one of my big passions is eating, discussing, and photographing food. I love to share the photos and discussions on social media for others to experience the art of a fellow foodie.
Brian Hines – Executive Host
BrianHines@clearwatercasino.com


As a VIP Host, I enjoy being a Clearwater ambassador to our most valued guests, and serving as their main contact for all the good and beneficial rewards that we offer. I love helping to create a memorable stay for each VIP and being a part of the reason they would choose Clearwater over any other Casino.
While I'm away from work, my family is my life. I enjoy spending quality time with my wife and English Bulldog Benny, indulging in delicious sweets and playing a wide variety of games ranging from cards to video games.
Pamela Caskey – Executive Host
PamelaCaskey@clearwatercasino.com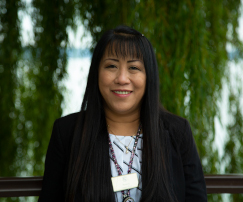 I enjoy the exciting experience of working one on one with our top-tier players and make sure I provide the highest level of customer service to all of our players. My goal as an Executive Host is to continue to provide the highest level of service, and make sure our players are informed of all the benefits the Casino has to offer.
When I'm not busy working here at the Casino, I enjoy gardening in my flowerbeds, riding ATVs, fishing, binge-watching my favorite shows and cooking.