Bainbridge Island Ferry Shuttle Service
A Clearwater Players Club card is required to ride the shuttle. If you do not have a club card, inform the driver you will get a club card upon your arrival, and use it on your way back.
The Bainbridge and Bremerton Ferry schedules will be modified due to the current Colman Dock construction. This may impact your sailing times. Current information on this work and how it may impact your sailing may be found here.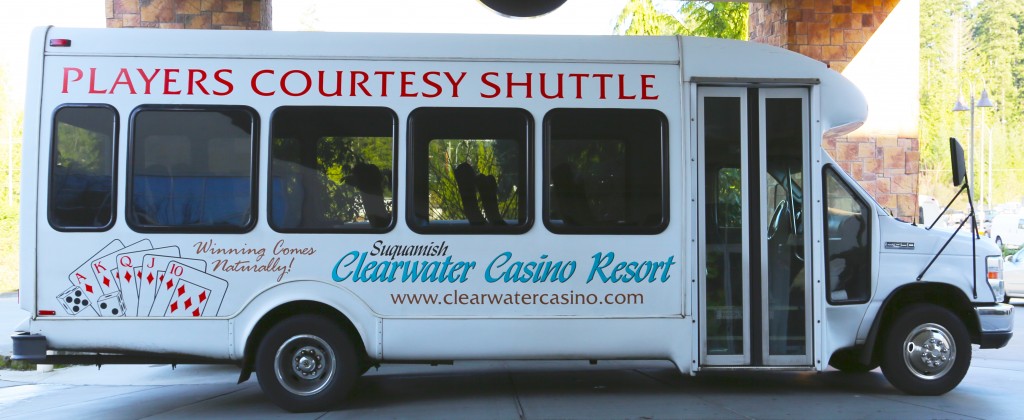 Bainbridge Island Ferry Shuttle Service
MONDAY – FRIDAY
SATURDAY & SUNDAY
Shuttle Departs Casino
Ferry Departs
Shuttle Departs Casino
Ferry Departs
9:10am
9:40am
4:50am
5:20am
9:55am
10:25am
6:30am
7:05am
11:00am
11:30am
7:25am
7:55am SAT ONLY
11:45am
12:20pm
8:15am
8:45am
12:40pm
1:10pm
9:10am
9:35am
1:30pm
2:05pm
9:55am
10:25am
2:25pm
2:55pm
11:00am
11:30am
3:20pm
3:50pm
11:45am
12:30pm
4:05pm
4:35pm
12:40pm
1:10pm
5:00pm
5:30pm
1:30pm
2:05pm
6:00pm
6:30pm
2:25pm
2:55pm
6:40pm
7:10pm
3:20pm
3:50pm
7:40pm
8:10pm
4:05pm
4:35pm
8:30pm
8:55pm
5:00pm
5:30pm
9:20pm
9:45pm
5:50pm
6:30pm
10:35pm
NO FERRY
6:40pm
7:10pm
11:10pm
11:35pm
7:40pm
8:10pm
12:30am
12:55am
8:30pm
8:55pm
9:20pm
9:45pm
10:05pm
10:35pm
11:00pm
NO FERRY
11:30pm
12:00am
12:55am
1:25am