Beautiful Wool Blankets Created by Suquamish Artist Available at Gift Shop
Beautiful Wool Blankets Created by Suquamish Artist Available at Gift Shop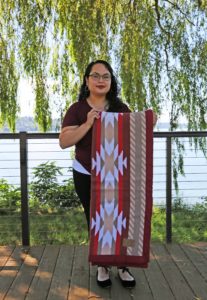 Our guests have likely noticed that our resort has undergone a remodel. When we remodeled our rooms we were looking for something both modern but with a naturalistic feel, highlighting both the geography of the area and the culture of the Suquamish Tribe. The rooms and corridors were updated with vibrant, environmentally-friendly LED lighting and the rooms received a technological facelift! Need some USB outlets? You got 'em, baby! The rooms and corridors were updated using a stunning copper, cardinal, and bark color palate that is both sleek and rustic.
One of the most important elements of the redesign is the stunning wall hangings above the beds in the resort hotel rooms. The wall hangings were created by Suquamish Tribe member Danielle Morsette. Using the design elements of the remodel, Danielle drew upon her experience as a professional weaver as well as her extensive knowledge of Coastal Salish weaving tradition to produce the wall hangings that are both contemporary and representative of the Suquamish culture and heritage. Using the same design elements, Morsette also created a wool blanket that could be available to the public for purchase! The blankets are available in the Clearwater Casino Gift Shop. As you can see from these pictures, the blankets are exquisite and would make a cherished gift!
Morsette's wool work features both a twill weave and twine border that were used in traditional Suquamish blankets. Both the design and style are representative of the blankets the Salish people would use in currency and trade. Traditionally, it was a great honor to receive a wool blanket as a gift and blankets with similar designs to these would be featured in ceremonies and celebrations. Morsette said producing these blankets and wall hangings was an honor and she is glad that these traditions can be shared with the community.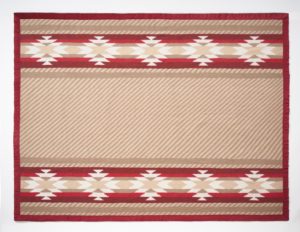 These blankets were produced by Eighth Generation, a Native-owned company that specializes in creating blankets for Native artists. These pieces are truly stunning and would make excellent gifts for anyone interested in Coastal Salish design, Suquamish heritage, or in need of a nice wool blanket! Come check them out in the gift shop where you can find work from other native artists, our super comfortable sheets, and a host of other items worth checking out. We think you are going to want to see these blankets in person! Remember – life's a game live it up on the Waterfront!