Angeline Spa Summer Specials
June 1st – August 31st, 2018
Seven days a week, 9 am – 6 pm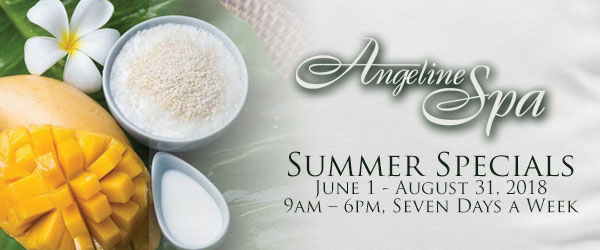 Active enzymes and Vitamins A, B1 and C in this Mango, Pineapple and Lemon Masque infuse your skin with hydration, while gently exfoliating, leaving skin with a radiant, refreshed look.
Mango Enzyme Body Wrap/Massage
90 minutes $125.00 (save $50.00)
Mango Enzyme Pedicure
50 minutes $45.00 (Save $5.00)
Revitalizing Glycolic Facial
60 minutes $100.00 (Save $20.00)
ADD A SUGAR OR SALT SCRUB TO ANY MASSAGE
25 minutes $25.00 (save $25.00)
See our Mid Week specials here!
☼ For Reservations, call 360.598.1420
Offers valid June 1st 2018 – August 31st 2018.
Specials are discounted rates and are not available with any additional employee, Tribal, military, promotional, birthday, coupons, or Player's Club discounts.
One guest per special.