---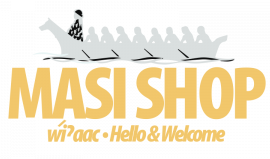 ---
Masi Latte is proud to serve Grounds for Change coffee!
Grounds for Change is a local, certified organic coffee roaster specializing in 100% fair trade coffee. All of their coffee is Fair Trade Certified by IMO and their Organic Certification meets the stringent Organic Processor Standards enforced by the United States Federal Government and the Washington State Department of Agriculture. The vast majority of the coffee Grounds for Change sells is also Shade Grown Coffee, which ensures healthy
habitat for migratory birds
Join the Masi Latte club, buy ten coffee
beverages and get one free.
PLUS, Tuesdays & Fridays are double punch days!
Masi Shop


16281 Hwy 305
Poulsbo, WA 98370
(360)598-4066
Open 24 Hours



Longhouse Texaco


15915 Hwy 305
Poulsbo WA 98370
(360)598-1340
M-Sa 5:30am / 8:00pm
Su 5:30am / 8:00pm



Suquamish Village


18480 Suquamish Way NE
Suquamish WA 98392
(360) 598-3909
M – F 5:30am / 9:00pm
Sa & Su 6:30am / 9:00pm