Our Top Five Favorite Wedding Videos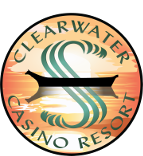 Here at Clearwater, we host a lot of weddings, and yet it still never ceases to amaze us how each and every gathering and ceremony is unique and beautiful.
We always feel lucky to be part of the celebrations. In fact, you better pass us the tissues because we can get a bit sentimental when it comes to weddings. The love, the romanticism, the commitment, we just never get tired of them.
Which is probably why we spend our downtime scouring the Internet for the best wedding videos to cry and laugh along with.
Below are our five favorite wedding videos of all time—at least for now, that is!
We love this video because it's unique, creative, and because they got so many of their friends and family involved in the process of making it. We definitely had the time of our lives watching this bride and groom turn their wedding into a music video.

This charming video starts off innocently enough, with the newlyweds slow dancing for their first dance as a married couple. But what happens then? Let's just say that it's one of the most delightful dance montages we've ever seen. We had no idea that groom was hiding away such amazing dance moves!
Tracy and Gary Richardson's traditional Anglican wedding seemed run-of-the-mill. That is, until the couple and the officiant break into a choreographed dance that turns into a flash mob! Our favorite part of this video is watching the stiff-lipped and proper older British guests get down and funky with the couple.
It's no wonder that the following video has racked up over 81 million views on YouTube. Yep, that's 81 million views. We'd tell you more about it, but we don't want to spoil the fun. Let's just say this couple has a sporting wedding party who puts on an entrance march to end all entrance marches.
One of our favorite wedding traditions is the father and daughter dance. It's sweet, it's symbolic, and it always fills the heart with love. Check out the following video of a father/daughter duo who take that moment to show their wedding guests that good dancing is an inheritable trait.
If you're ready to say "I do" and make some video memories of you own, check out our beautiful outdoor wedding  and reception venue!