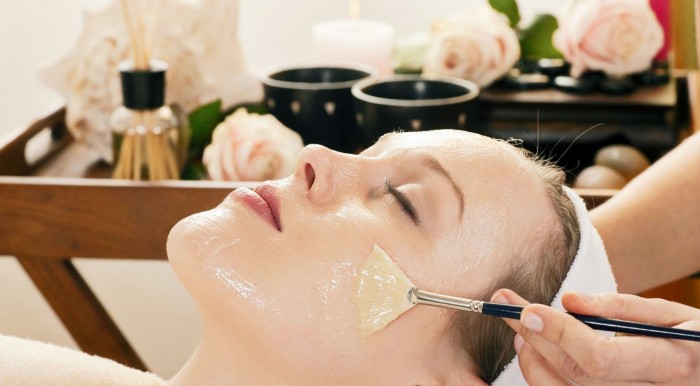 At this time, Angeline Spa is open for retail sales only.
Spa services are still temporarily suspended until further notice.
Skin Care Experience

Take time to be enriched by the vitality and energy of our facial experiences to ensure your skins radiance as you feel replenished and complete again.

Our facials include a full skin analysis, purifying cleanse, exfoliation, steam, extractions, mask, and hydrating moisturizer that suits your skin type.

A hand & arm and facial & décolleté massage completes our art of absolute relaxation.

Classic Facial
-all skin types

☀ Treat your senses and your skin to a customized blend of products to suit your specific skin type and skin care needs. This facial leaves your skin healthy, toned, and invigorated.

Intensive Collagen Rejuvenation-mature skin

☀ This anti-aging facial rejuvenates dull and fatigued skin using a collagen mask that will assist in stimulating circulation, promote cellular repair, and enhance your skin's elasticity.

Vitamin C Firming Facial – firming & toning

☀ This luxurious anti-aging facial uses concentrated Vitamin C to enhance the contour and texture leaving your skin glowing, radiant, and firm.

Anti – Aging & Hydrating Facial

☀ Erase the signs of aging with the antioxidant-rich firming facial. Hyaluronic acid works to hydrate and plump and elasticity-promoting solutions in this facial will leave skin soft, firm, smooth, and revitalized.

Delicate Skin Facial – sensitive skin

☀ Ease redness & inflammation with the soothing & calming products specifically formulated for sensitive and rosacea prone skin types. Gentle chamomile and rosemary combined with hydrating calendula and sunflower oils leave the complexion detoxified, soft, and free of irritation.

Revitalizing Glycolic Facial – resurfacing

☀ Reawaken and rejuvenate your skin using a buffered glycolic acid to target fine lines, hyper-pigmentation, and reveal a more youthful complexion. A series of treatments and home care is recommended to improve acne and sun damaged skin.

Gentlemen's Escape Facial

☀ Escape and give yourself some time to restore the balance in your life and improve your skin's texture and give your face a healthy and vital radiance. An experience that will rejuvenate your skin and relax the man in you.

---

Enhancements

May we suggest these add on enhancements to any facial.

---

Dazzling Eye Treatment

☀ Soothes & hydrates delicate eye area.

Lip Wax

☀ Hair Removal of Upper Lip.

Chin Wax

☀ Hair Removal of Chin.

Eyebrow Wax / Shaping

☀ Hair Removal and Brow Shaping.

Eyelash or Brow Tinting

☀ Vegetable-based tinting of lashes & brows.