Angeline Spa Fall Specials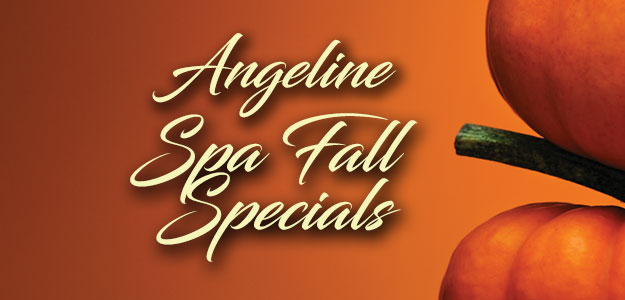 ↪ September 1 – November 30, 2018
9 am – 6 pm, Seven days a week ↩
---
☂ Autumn is officially here, which means it is time to indulge in everything pumpkin! Good thing this signature fall vegetable is packed with vitamins and minerals including vitamins B, C, E, beta-carotene, fruit enzymes and alpha hydroxyl acids (AHA's). Among its numerous health benefits, pumpkin has an amazing ability for treating dull, aging skin and pigmentation.
Pumpkin Cream Body Wrap & Massage
90 minutes $125.00
Pumpkin Cream Pedicure
50 minutes $45.00
Pumpkin Collagen Facial
60 minutes $100.00
---
☼ For Reservations, call 360.598.1420
Offers valid September 1 – November 30 2018.
Specials are discounted rates and are not available with any additional employee, Tribal, military, promotional, birthday, coupons, or Player's Club discounts. One guest per special.

See our Mid Week specials here!