Steel Panther – SOLD OUT
December 22, 2019 @ 6:00 pm

Clearwater Entertainment Presents:
Steel Panther
Heavy Metal Rules Tour!
Heavy Metal
---
One of the best parts about Steel Panther is that by combining the loud, amped-up sound of classic 1980s rock with satire, Steel Panther offers audiences entertaining laughs alongside fun opportunities to let loose and dance. Steel Panther — Michael Starr [lead vocals], Satchel [lead guitar], Lexxi Foxx [bass], and Stix Zadinia [drums] —have certainly waved the flag for sex, drugs, and metal to the point of keeping this holy trinity alive! The solos screech louder, the vocals soar higher, the drums hit harder, and the bass throbs mightier than ever before!
Steel Panther is an American heavy metal band, mostly known for their profane and humorous lyrics, as well as their exaggerated on-stage personae that reenact the stereotypical "glam metal" lifestyle. The long-haired rock band is a contemporary group that pretends to be a band from the 1980s. Steel Panther shows are both hilarious and energizing!
After playing venues in Los Angeles from 1999 until 2014, the band's popularity got so great that they began touring the world. Steel Panther performed live regularly for years but, in 2009, they were signed to Universal Republic and put a record through the label called Feel the Steel. The album charted at Number 1 on the Billboard Comedy chart and also reached the Number 98 spot on the Billboard 200 chart.
---
Steel Panther
Heavy Metal Rules Tour Tickets
Sunday December 22nd, 2019
Doors open 5:00pm
Show time 6:00pm
Clearwater Event Center
SOLD OUT
Limit 8 tickets per person
Limited Seating
Ticket prices may fluctuate, based on demand, at any time period. Be sure to get your tickets as early as possible to avoid price increase and early sell out.
Steel Panther
Heavy Metal Rules Tour Tickets SOLD OUT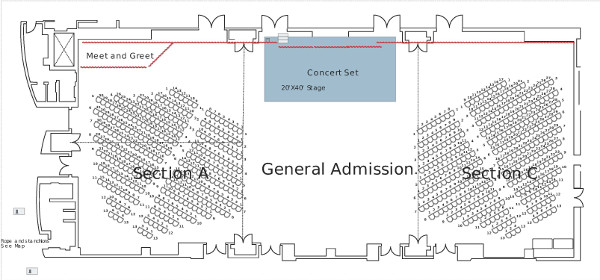 Clearwater Casino recommends only purchasing tickets from authorized ticket vendors. This not only ensures the best prices but also the best customer service. Ticketmaster is Clearwater Casino's only authorized online, over the phone, and casino box office ticketing agent. If you purchase tickets from a source other than Ticketmaster, we cannot guarantee the authenticity of the ticket, and you risk being denied admission. There are no refunds and/or exchanges if your ticket is found to be fraudulent. Ticket prices may fluctuate, based on demand, at any time period. ADA seating available on request. Please ask ushers for assistance day of event.