Sebastian Bach 31st Anniversary Tour
March 28th

Clearwater Entertainment Presents:
Sebastian Bach
31st Anniversary Tour!
Heavy Metal
---
Sebastian Bach appeared on the music scene in 1987 as front man for the heavy metal band Skid Row. After leaving them, he was a frequent live guest singer with other bands, including Guns n' Roses, and often sang onstage with Axl Rose. Since his departure from Skid Row in the mid 90's, Sebastian Bach still remains one of the most relevant rock figures in pop culture today, with three solo records, network television appearances on MTV, VH1 and CMT, guest appearances on Gilmore Girls, Trailer Park Boys, Californication and other popular television shows, and several acting stints on and off Broadway.
Released in the winter of 1989, Skid Row's self titled record is one of heavy rocks most successful debut albums, landing in Billboards Top 10 and going on to sell millions of copies around the world. The record transformed the band from local New Jersey quintet into a global phenomenon whose rebellious attitude and jaw dropping talent set the bar and tone for rock music in the late 80s and early 90s.
Skid Row's singles 18 And Life, Youth Gone Wild and I Remember You are among the decades most recognizable rock anthems that still receive heavy airplay on radio stations across the country. The group again achieved commercial success with its second record, Slave To The Grind (1991) certified multi platinum, reaching No. 1 on the Billboard 200.
---
Sebastian Bach 31st Anniversary Tour Tickets
Saturday March 28th, 2020
Doors open – 7:00pm
Show time – 8:00pm
Tickets starting at $49. Price based upon availability – see Ticketmaster.com for current pricing
Clearwater Event Center
Must be 18+
Limited Seating
Ticket prices may fluctuate, based on demand, at any time period. Be sure to get your tickets as early as possible to avoid price increase and early sell out.
Get Sebastian Bach
31st Anniversary Tour Tickets Now!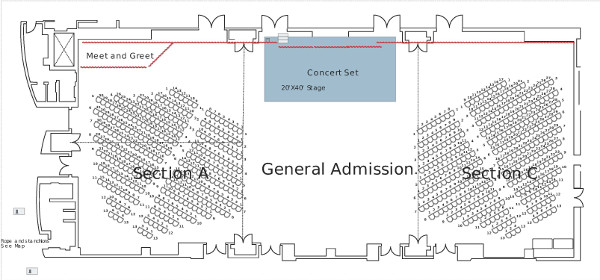 Clearwater Casino recommends only purchasing tickets from authorized ticket vendors. This not only ensures the best prices but also the best customer service. Ticketmaster is Clearwater Casino's only authorized online, over the phone, and casino box office ticketing agent. If you purchase tickets from a source other than Ticketmaster, we cannot guarantee the authenticity of the ticket, and you risk being denied admission. There are no refunds and/or exchanges if your ticket is found to be fraudulent. Ticket prices may fluctuate, based on demand, at any time period. ADA seating available on request. Please ask ushers for assistance day of event.