Come Celebrate Our Birthday and More | Clearwater Casino Resort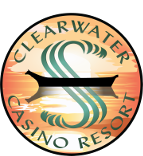 The Clearwater Casino Resort is twenty-one this year and we want everyone to celebrate with us! Every month, between the 21st and the 27th, swipe your Player's Card daily between 7am and 3am for the chance to win 221,000 dollars, along with hotel offers, logo merchandise and more!
The Pop and Win Drawings are on the last day of the month from 4pm to 8pm. Now that's a birthday celebration everyone can get behind!
Also, as summer comes to Clearwater, we've got tons of great events waiting in the wings, like concerts with beloved 90's throwback band Lit on June 2nd, the adrenaline-fueled thrills of MMA Fight Night on June 18th and the Everly Brothers Experience with The Bird Dogs on June 21st, to name a few.
And we're just getting started when it comes to summer fun, so don't miss out on all the exciting events!