Return to Clearwater Casino Website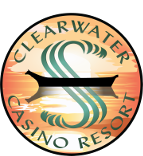 Clearwater Casino Resort
Sunday-Thursday 10:00 AM-4:00 AM
Friday/Saturday - open 24 hours
We continue to be focused on maintaining the health and safety of all, and the following safety precautions are currently in effect:
Face Masks
Face masks are optional for our fully-vaccinated guests. We encourage all guests to continue wearing masks based on your comfort level, vaccination status and for the safety of all. Please continue to practice safe social distancing when and where possible
100% Smoke-Free
Clearwater Casino Resort continues to be 100% smoke-free. There are designated smoking areas on 4th floor West Garage, 1st floor East Garage and Main Entrance for guests.
Acceptable Identification
If your WA State ID expired between March 1, 2020 and March 31, 2021 it was automatically extended for a limited period. PME outlets will accept these automatically extended WA State IDs within that limited extension period for:
Entry into the casino
Jackpot verification at the casino
Purchase of tobacco or liquor
If your ID is expired you are encouraged to carry the "Notice of Personal Driver License Extensions" letter provided to you by the state
For complete details regarding our policy: https://www.clearwatercasino.com/COVID19/ExpiredLicenseExtensionMemo.pdf
To confirm the extension period that applies to WA State ID's: https://info.dol.wa.gov/extensions-are-ending/
Health & Wellness
Please maintain physical distance from other when and where possible. If you have any of the following symptoms: chills, fever, cough, difficulty breathing, or muscle aches, we ask that you visit once you are healthy.
Clearwater Casino Resort continues to frequently clean and sanitize in all public spaces with an emphasis on frequent contact surfaces. This includes, but not limited to, front desk check-in counters, bell desks, elevators and elevator buttons, door handles, public bathrooms, room keys and locks, ATMs, stair handrails, casino cage counters, gaming machines, gaming tables, dining surfaces and seating areas.