Return to Clearwater Casino Website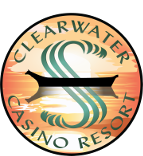 Clearwater Casino Resort
Sunday-Thursday 10:00 AM-3:00 AM
Friday/Saturday - open 24 hours
Masks are Optional
The wearing of face coverings is currently optional for all guests and employees at Clearwater Casino Resort.
Smoking Allowed in Designated Areas
Smoking is allowed in the gaming area located at the East Garage entrance of the casino. The remainder of the casino floor, including Table Games, will remain smoke-free at this time. We continue to have designated smoking areas outside of all entrances, which include 4th floor West Garage, 1st floor East Garage and Main Entrance. All of our F&B outlets, Tower and Resort buildings are currently 100% smoke-free.
Health & Wellness
If you have any of the following symptoms: chills, fever, cough, difficulty breathing, or muscle aches, we ask that you visit once you are healthy.
Clearwater Casino Resort continues to frequently clean and sanitize in all public spaces with an emphasis on frequent contact surfaces. This includes, but not limited to, front desk check-in counters, bell desks, elevators and elevator buttons, door handles, public bathrooms, room keys and locks, ATMs, stair handrails, casino cage counters, gaming machines, gaming tables, dining surfaces and seating areas.
Entertainment Safety Guidelines
Clearwater Casino Resort will no longer require guests to provide proof of vaccination to attend concerts*
Masks are optional as of February 25, 2022
Please do not attend an event if you have tested positive for COVID-19, been in close contact with someone who is positive or are experiencing any symptoms
*Concerts may require proof of vaccination or negative test at the discretion of the performer. Information for that will be listed on the event page of our website