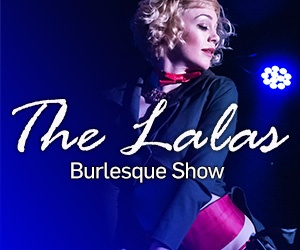 Clearwater Entertainment Presents:
The LALA's Burlesque Show!
$10 OFF! Promo Code: LALAS
Combine beauty + brains + bustiers to get the Lalas Burlesque Show, one of the most sought after burlesque shows in the world. Don't miss a fun-filled evening of comedy, one of a kind acts and audience interaction that will keep you smiling the whole night long.
Come check out a show, sit at the edge of your seat, bring your mom (really – she'll love it!) and grab a cocktail. Be prepared to laugh til you're in stitches and drop your jaw, as you watch the world's most in demand burlesque show take the stage!
---
Get Tickets Now:
Tickets on sale: June 30th, 2017
Show date: October 12th, 2017
Doors open 6:00pm
Show starts 8:00pm
G/A tickets: regular $19, $10 OFF Ticket – use Promo Code: LALAS
Beach Rock Music & Sports
Must be 21+
Sponsored by West Hill's Auto Complex

The LALA's Burlesque Show Tickets!